Summer seems to always end suddenly. It was not long ago that we were just getting excited about ramps and rhubarb, and now fall is a day away and a slight chill has started to make its way through the lingering summer heat.
If you're like me, then you're always sad to see summer go and so you try to find ways to savor the last moments. So what to do? Try making a simple, no-churn ice-cream that harbors the sweet taste of August: Caramelized Peach Bourbon Ice-Cream.
No-churn ice cream has been getting a lot of attention lately. It seems to have dominated the food trends this summer; and it's probably because it's so easy to make. It takes no more than 10 minutes to whip up and you don't even need an ice cream maker! I have seen many recipes up online and they all seem to follow the same pattern: whipped cream + sweetened condensed milk + extra flavorings. The sweetened condensed milk is key because it's cooked down, so most of the water has been evaporated, and it has high amounts of sugar. This is key to making ice cream because 1. you need lots of sugar / fat 2. water creates ice crystals, so if there's a lot of water in the mixture it would just lead to an icy ice cream. The whipped cream adds fat but also air. When you put ice cream in an ice cream maker it churns to create air pockets, but because we are not using an ice cream maker, whipped cream will do.
I have read many articles and recipes on no-churned ice cream but my favorite by far comes from Thomas Joseph's Kitchen Conundrums. In the video (linked below), Joseph takes you through step-by-step how to make no-churn ice-cream and breaks down the science behind it. He even explains why a little alcohol helps the texture and consistency. I adapted my recipe from this one.
The Science Behind No Churn Ice Cream - Kitchen Conundrums with Thomas Joseph by Everyday Food
For this recipe, I decided to make a caramelized peach bourbon ice cream. Bourbon, because why not add a little booze? Also, alcohol helps create a smoother texture by reducing its freezing point. And because peach season is fading out, I wanted to savor every last bit of it! To make the peaches, I roasted them in the oven with some butter, brown sugar, and a little salt. You could also do this over the stove top if you prefer. When preparing the peaches, I left the skin on while roasting them, and then once they were cooled, I peeled off the skin. You could also remove the skin before baking with a peeler or by blanching them. Or you could also leave the skin on if you don't mind. When incorporating the peaches to the ice cream, I cut them into small pieces and squished them a little between my hands, but you could add them whole or push through a sieve for a smoother puree (you may need more use more peaches as you may loose some through the straining process).
In the beginning, I was almost skeptical how the no-churn ice cream would turn out because it just seemed too easy, but I was so pleasantly surprised with how well it "churned" out! This is obviously an adaptable recipe, meaning you would add whatever flavorings / seasonal fruits you'd like! So whatever you do, make sure to have fun!
(Check out the surprise GIF in the photo gallery below!)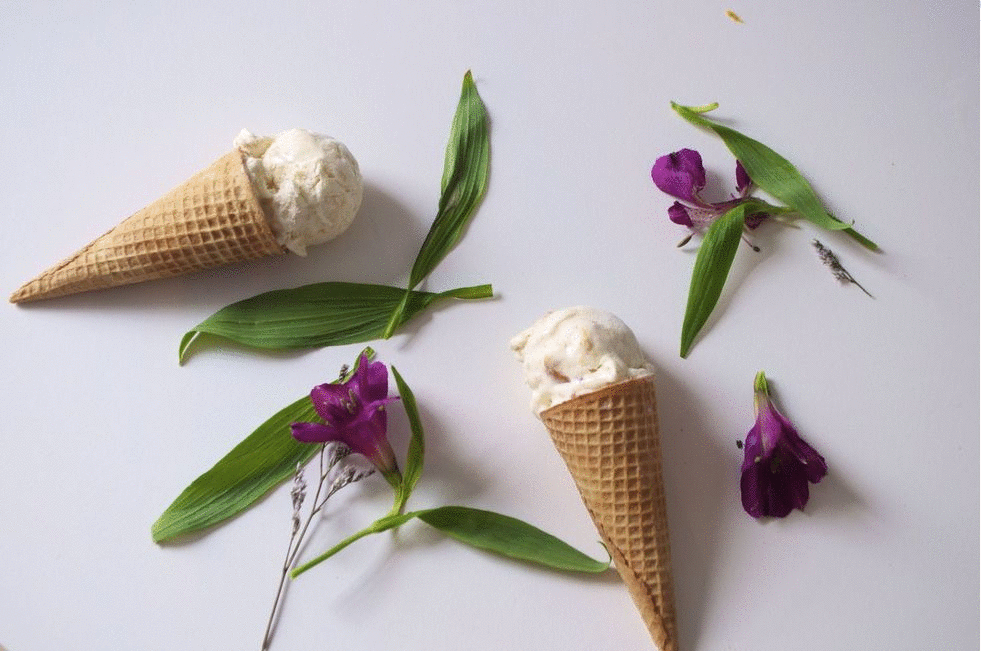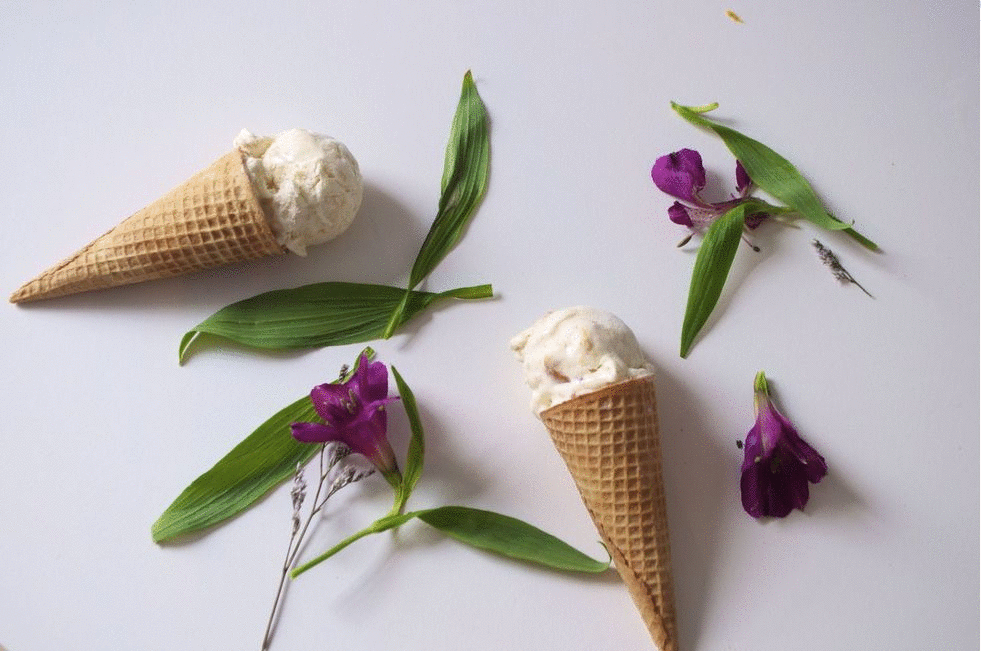 Preheat the oven to 400 degrees F. Line a baking sheet with parchment paper.
In a large bowl, toss together the peaches, butter, brown sugar, and salt until combined. Arrange the peaches onto the baking sheet, making sure to separate them out. Bake until golden and tender, about 20-25 minutes. Remove and let cool.
Once cooled, remove the skin by hand and chop up into pieces, or push the peaches through strainer with wooden spoon/spatula for a smooth puree. Set aside.
In a large bowl stir together the sweetened condensed milk, bourbon, vanilla extract, salt and peach mixture. In another bowl, using an electronic mixer (or by hand), whisk together the heavy whipping cream until stiff peaks form, about 8 minutes on medium speed. Using a spatula, gently fold half of the whipped cream into the condensed milk mixture until incorporated. Add the other half and continue to fold until just combined. Don't over mix or the air will deflate! Pour the mixture into a loaf pan or any freezer-proof container and freeze for at least 6 hours or overnight before serving. Enjoy!
Yields: 1 1/2 quarts
Prep Time: 45 minutes
Total Time: 7 hours (includes freezing time)
For the peach mixture:
2 large peaches, sliced into 1/4 inch slices
2 tablespoons unsalted butter, melted
1/4 cup light brown sugar
1/8 teaspoon salt

For the ice cream:
2 cups heavy whipping cream, chilled
14oz can sweetened condensed milk
2 tablespoons bourbon
1 teaspoon vanilla
Pinch of salt